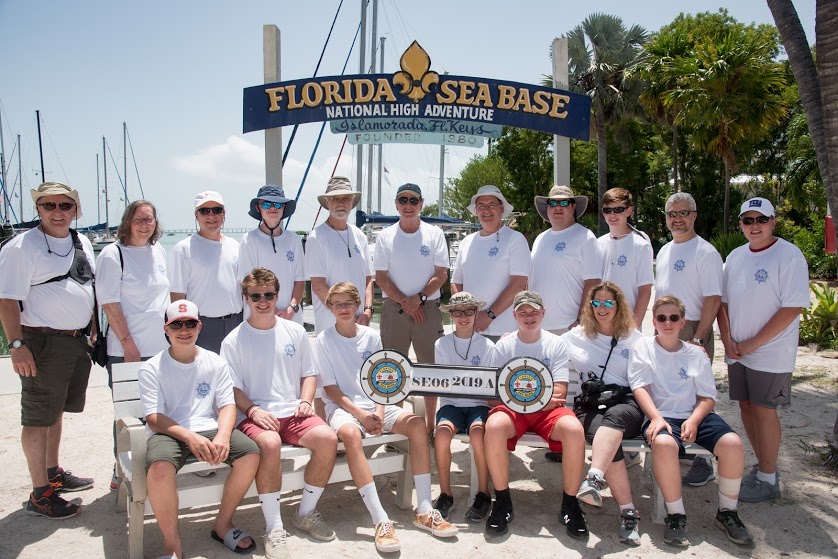 The trip started out of Islamorada, Florida at the Sea Base headquarters. We flew down on an early morning Thursday flight, we're met by two Emerald vans and arrived in time for lunch across the road.
Thursday afternoon was check in (medical forms, trip overview), checking out snorkeling gear and trying them out, leaning how to jump into the water from a boat. Air conditioned dorms that night!
On Friday the scouts picked up food and ice, loaded them into large coolers, packed up the trailer and we set off on the drive down to Key West. Stopped off at a great coffee shop on the way.
Sea Base owns a number of dive boats, but charters four large vessels for the 20 person Explorer crews (our trip), and many smaller boats for the 8 person trips. Our vessel was the Grand Nellie. It's a 75 ft steel schooner owned by Captain Ron, crewed by Captain Vinnie and our two BSA leaders, Allessa and Karson.
Andrew B was our leader, and did a superb job running the trip. At the end we found out that Captain Ron had awarded us with the Captain's Award – not something every crew is given.
Friday through Sunday we sailed (whenever there was wind) and anchored or moored off-shore. Anchor watches ran from 9/10 PM until 6 AM – pairs of scouts or adults, checking the anchor/mooring and watching for other vessels.It was very hot, and most of us slept outside, on deck. We snorkeled twice or more every day – over reefs and wrecks. If people left gear out (not properly stowed) there was an opportunity to reclaim it in the evening. Captain Vinnie asked for a song, story or joke (like we do with Capture the Flag).
On Monday we docked in Key West and spent the day exploring the town. The boat had shore power, and air conditioning!
The last night we anchored out again. We were 10 miles off-shore and heading back to land when a lightening storm lit up Key West. The captain turned us around and we anchored out instead.
Wednesday we said goodbye to the captains and headed back to Sea Base, and showers and air-conditioning. Dinner was with other crews leaving the next day.
Thursday we were picked up by Emerald and we stopped off at an Alligator Farm. After a demonstration we took an air-boat ride. The driver experienced a power problem and ran aground on mangrove roots. Brad offered our help so we pulled and pushed the boat back to the channel.Great job by all!
Made it back to Bradley on time – the end of the trip.