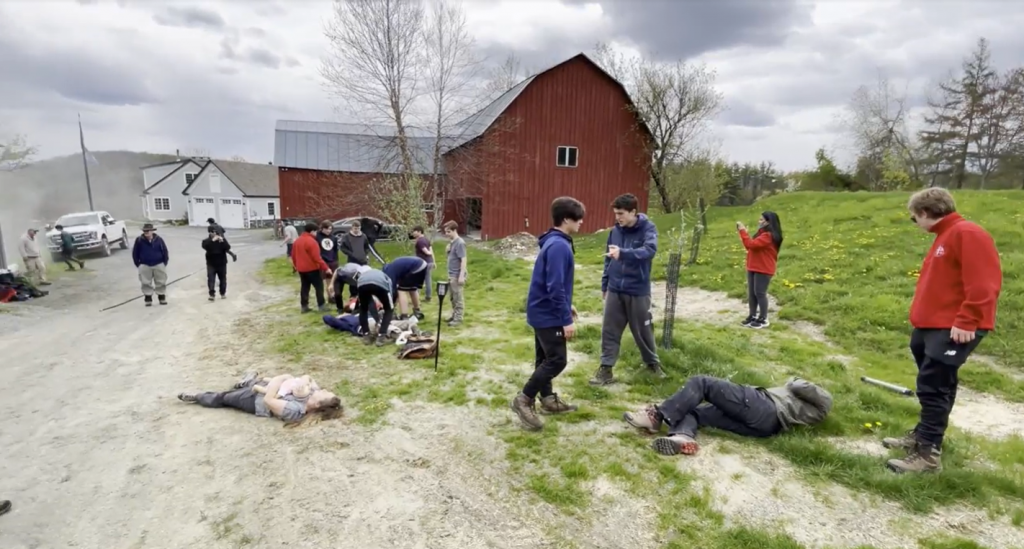 Every year, BSA Troop 175 in Simsbury CT run Junior Leader Training and this years event was held in Vermont at the Veltrop Wild Trails Farm. 24 boys participated in Search and Rescue drills, going out in teams and bringing back lost hikers, injured climbers, mass casualty victims from a jeep roll over and six other scenarios. Our Instructors, Dan Coppinger (Former West Hartford Police chief)and Ken Medina (Afghanistan War Paramedic), also provided us with serious rescue equipment. The Scouts set up full Incident Command and had to Improvise the whole day. Finally it was over and during the debrief the exhausted teams had one last surprise – the Barn "Blew up" with five of our adults inside , smoke every where, sirens going off , lights flashing and even a mother and her "baby" in need of rescue. Again this was a drill to show you never know what to expect when you are in Troop 175!
Troop 175 Eagle Scout Ryan Mead is a film maker and runs a production company and attended the event. He is producing a 20 minute documentary on the whole days events. Below is a link to a two minute teaser on just the final Barn rescue.
 JTL Barn Burner quick cut v7.mp4
You will also find photos of the event in the Troop 175 Photo Library.