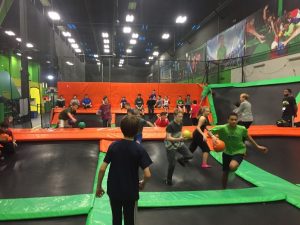 The scouts from Simsbury Boy Scout Troop 175 began the new year with major spring in their step. The troop took over Launch, a trampoline facility in Hartford so the scouts and many of their family members could get a jump on having fun for new year's eve.
p
Check in was at 9:30pm and jumping began at 10pm and everyone jumpped through the night until 7 AM next morning. At about 1 Am the group had Pizza and soda There were plenty of places to sleep if you want to take a rest. In the past when we have done this event at Flight everyone goes all night – adults included. The Troop had booked out the entire facility – so we have it all to ourselves.
This event was open to all Scouts, adults, alumni and siblings( as long as one parent of the sibling is along).
To see more photos from the event, visit the Troop 175 Online Photo Library