Wondering which merit badges are the newest? Looking for release info on upcoming merit badges? Here is information from the BSA's Blog
Bryan on Scouting
to get you up to date!
---
Newest Merit Badges — Coming Soon
(Next to be released listed first)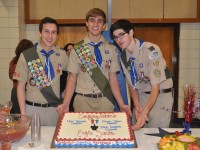 Simsbury Boy Scout Troop 175 recently held a Court of Honor to award the rank of Eagle Scout to three young men, Noah Campion, Ethan Meskill and Jack Faulkner. With the addition of these Eagle Scouts, 100 scouts have earned the rank since Troop 175 recognized it's first Eagle scout in 1981 at St. Mary's...
Read more